Do you remember the
invitations
I did for my friend Christina? Well, since her wedding is a bit of a road trip away, I figured she might need some Travel Guide Booklets, for all the guests. These were a blast to make and I think they turned out pretty nicely. I bound them with twine so they'd be easy to pocket and flip open. And since I was able to print out one whole booklet per sheet of card stock, it was pretty economical, too!
Really, I did these a while back but just forgot to post it. Since the wedding is this weekend, though, I figured there's no time like the present! We're on our way to explore some of the fun things to do in Lancaster... Hmmm... I still can't decide on whether to go for an Amish buggy ride, or to the
Candy Americana Museum
, or to the first commercial pretzel factory, the
Julius Sturgis Pretzel Bakery
- maybe I'll skip them and just go see the funky
Biblical Tabernacle
reproduction!!! (Yes folks, for reals. There is a FULL-SIZED reproduction of Moses' Tabernacle out in Lancaster, PA. And I'm betting it's awesome.) As you can see, I tried to pack in some versatility in sightseeing.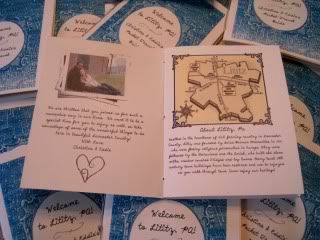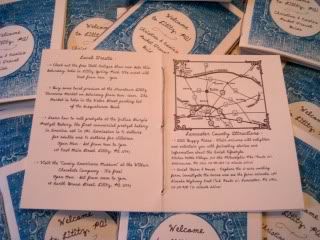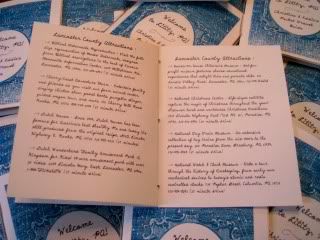 Are travel guides the best? Do you think there is a market out there for this?